ANGELO
GILBERTO
PERLOTTO
GIBO
GIBO, ANGELO GILBERTO PERLOTTO, WAS BORN IN VICENZA ON 20 AUGUST 1959 AND HE LIVES IN TRISSINO (VICENZA), AT 33 VIA 4 NOVEMBRE, IN ITALY.

HE IS THE FOURTH DESCENDANT OF AN ANCIENT FAMILY OF IRONWORK MASTERS, ACTIVE FOR OVER A CENTURY – THE GREAT-GRANDFATHER ANTONIO LORA WAS ONE OF THE GREATEST ARTISTS OF THE IRON BETWEEN THE EIGHTEENTH AND NINETEENTH CENTURIES – GIBO BEGAN HIS ARTISTIC ACTIVITY IN THE 1980S, UNDER THE GUIDANCE OF HIS FATHER GERMANO, FROM WHOM HE LEARNT THE MAIN METAL WORKING TECHNIQUES. IT WAS ALWAYS IN THAT PERIOD THAT HE ATTENDED COURSES OF DRAWING AND MOULDING IN IMPORTANT ART WORKSHOPS AND THAT HE CHALLENGED HIMSELF IN IRON AND BRONZE WORKING IN VARIOUS FOUNDRIES, WHERE HE EXPERIMENTED WITH LOST-WAX CASTING TECHNIQUES AND PRESERVATIVE FINISHINGS OF THE METALS, REPOUSSAGE AND CHISELLING TECHNIQUES.

GIBO IS CONSIDERED BY CRITICS ONE OF THE GREATEST EXPERTS IN CONTEMPORARY IRONWORK ART. HIS "PURE HYPERREALISM" MARKS A NEW CHAPTER IN ITALIAN VERISMO AND INTERNATIONAL REALISM. FOR FORTY YEARS HE HAS EXHIBITED BOTH IN ITALY AND ABROAD IN SOLO AND GROUP EXHIBITIONS.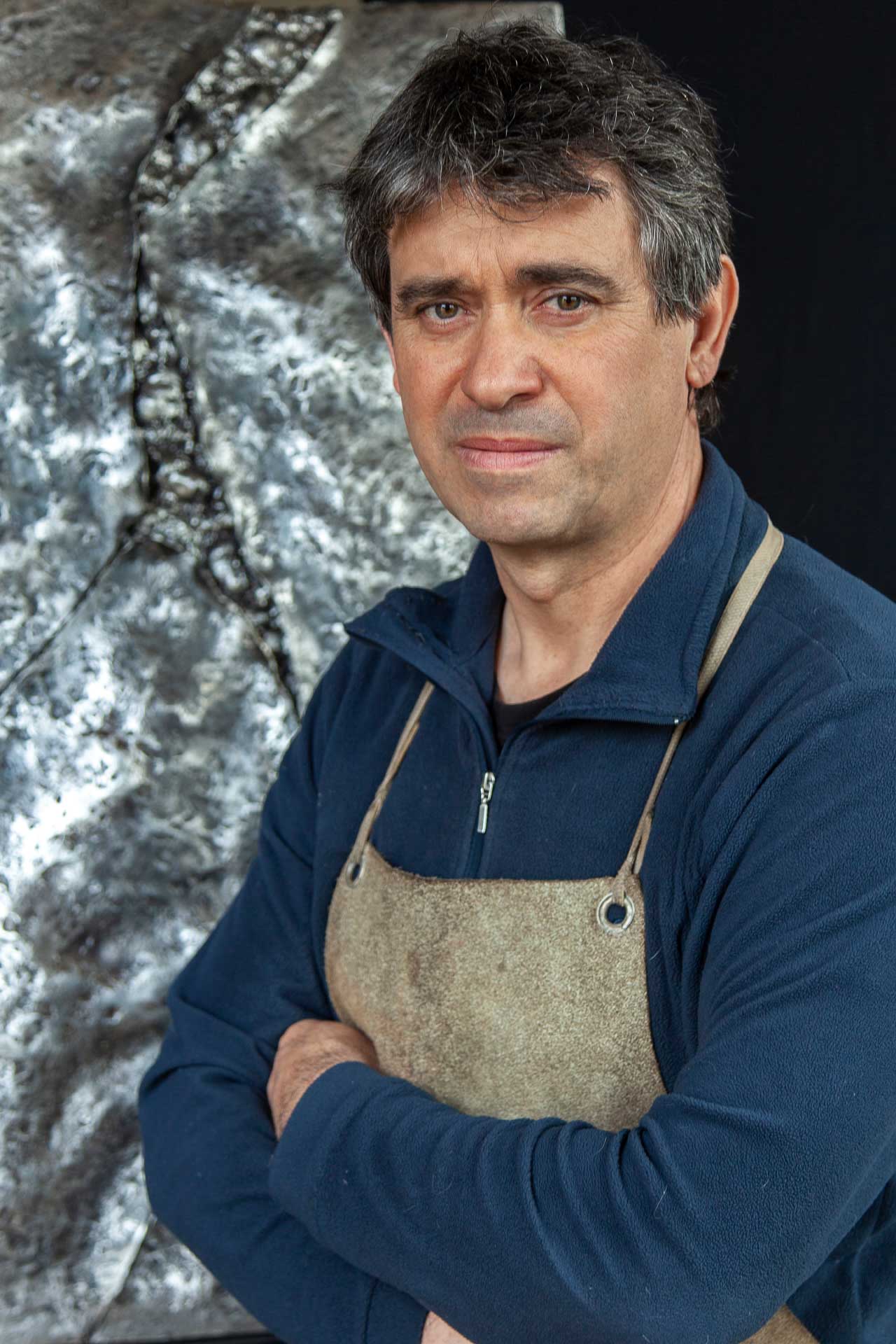 SOLO
EXHIBITIONS
2023 "ANTEREM" VERONA, BIBLIOTECA CIVICA – SALA FARINATI
2023 "L'ETERNA MERAVIGLIA TRA FUOCO, FERRO E BULINO." GOLF HOTEL VICENZA 36051 CREAZZO
2022 UNIVERSITÀ DI BERGAMO, SEDE DI SANT'AGOSTINO – BERGAMO – "OMAGGIO A DINO BUZZATI"
2018 CIVIC ART GALLERY – MONTECCHIO MAGG. (VICENZA) – "L'ENIGMA DEL REALE" (REAL ENIGMA)
2016 BORGASIO PALACE (FELTRE) – "CASA MAESTRA"
2015 ARTE A PALAZZO FARINI (BOLOGNA) GALLERIA FARINI CONCEPT
2015 PIAZZA SAN PIETRO (ROME) – PAPA FRANCES BLESSES THE IRON SCULPTURE LA MANGIATOIA BETLEMITA (BETHLEM MANGER)
2014 GHIOTTO GALLERY ARTE VICENZA
2014 PUBLIC LIBRARY "GIULIO BEDESCHI" DI ARZIGNANO (VI) "LIB(E)RO"
2014 ANTICO MAGLIO DI BREGANZE (VI) "ARMONIE DI FERRO E DI FUOCO"
2013 VILLA CORDELLINA LOMBARDI MONTECCHIO MAGGIORE (VI)
2013 BASILICA SANTA MARIA GLORIOSA DEI FRARI (VENICE) "ELEVAMI"
2012 VILLA BORROMEO ARCORE (MI) "LE NEVI DI MARIO RIGONI STERN"
2011 BARBARAN PALACE CASTELGOMBERTO (VI) "METALMORFOSI" (METALMORPHOSIS)
2010 PUBLIC LIBRARY "G. ZANELLA" DI CHIAMPO (VI) "METALMORFOSI" (METALMORPHOSIS)
2008 VICENZA GOLD FAIR "PASSAGGIO A NORD EST" (NORTH-EAST PASSAGE)
2008 VI-ART MONTE DI PIETÀ A VICENZA
2006 SOVIZZO CITY HALL "MEMORIA CONTADINA" (RURAL MEMORY)
2006 PUBLIC LIBRARY BEDESCHI – ARZIGNANO (VI) "METALMORFOSI" (METALMORPHOSIS)
2005 DIREZIONE GENERALE CASSA RURALE DI BRENDOLA (VI)
2005 INTERNATIONAL BIENNIAL AREZZO-PALAGIO FIORENTINO "MEMORIA CONTADINA" (RURAL MEMORY)
2003 VILLA SAN FRANCESCO A FELTRE "BIGLIETTI NON RACCOLTI"
2002 TRISSINO CITY HALL (VI) "METALMORFOSI" (METALMORPHOSIS)
2001 REIMS (FRANCE) "MEMORIA CONTADINA" (RURAL MEMORY)
2001 MUSEO DEI SOGNI (FELTRE) "MEMORIA CONTADINA" (RURAL MEMORY)
2000 ARZIGNANO CASTLE (VI) "MEMORIA CONTADINA" (RURAL MEMORY)
2000 BADEN (AUSTRIA) "MEMORIA CONTADINA" (RURAL MEMORY)
2000 "ALONG THE DANUBE" – STEEL AND METAL SCULPTURES – NEU-ULM MUSEUM OF EDWIN SCHARFF (GERMANY)
1999 INTERNATIONAL FOUNDATION LA VIGNA (VICENZA) "MEMORIA CONTADINA" (RURAL MEMORY)
1996 REIMS (FRANCE) "OLTRE IL METALLO" (BEYOND METAL)
1996 BADEN (AUSTRIA) "OLTRE IL METALLO" (BEYOND METAL)
GROUP EXHIBITIONS
MINI-SOLO EXHIBITIONS
2022 "PICCOLA COLLETTIVA D'ARTE SACRA" L'UOMO E LO SPIRITO, MUSEO DIOCESANO – GUBBIO (PERUGIA)
2019 "ARTISTIC SIGN AT VALLE DELL'AGNO", TEN AGORA' YEARS AT PALAZZO BARBARAN, CASTELGOMBERTO (VI)
2019 MITI&METE 2019 AT VILLA DA PORTO BARBARAN, MONTORSO VICENTINO
2018 MAC, N (MONSUMMANO TERME/PISTOIA) – "OASI" (OASIS)
2017 XXII BIENNALE INTERNAZIONALE D'ARTE FABBRILE (STIA/AREZZO) – SPECIAL MENTION
2016 ARTE SALERNO "FIRST PRIZE SECTION SCULPTURE"
2016 ARTE FIRENZE 2016 (FLORENCE) – "SANDRO BOTTICELLI PRIZE"
2016 MAC, N (MONSUMMANO TERME –PISTOIA) "TRAGITTI" (ROUTES)
2016 PALAZZO FERRAJOLI (ROME) – "CAPUT MUNDI ARTE 2016"
2015 COLLECTIVE ART SHOW AT MILAN ART GALLERY
2015 MUSEE DU LOUVRE – QUENN ART GALLERY
2015 XXI BIENNALE EUROPEA D'ARTE FABBRILE CONTEMPORANEA
2015 FIERA DI PARMA INTERNATIONAL SHOW
2013 XX BIENNALE D'ARTE DI STIA (AREZZO)
2012 VIART (VI) "ARTEX, L'ARTE PRESENTE"
2012 VILLA CORDELLINA LOMBARDI MONTECCHIO MAGGIORE (VI) "METALMORFOSI" (METALMORPHOSIS)
2011 CASA DEI CARRARESI DI TREVISO (TV) "MISTICA SOLITUDINE"
2007 INTERNATIONAL BIENNIAL STIA (AREZZO) "INTERNATIONAL PRIZE FOR EVOLUTION AND INNOVATION IN THE SUBJECT"
2005 PALAZZO VITELLI – CITTÀ DI CASTELLO (PERUGIA) "METALMORFOSI" (METALMORPHOSIS)
2003 BIENNALE EUROPEA LIMENA "MEMORIA CONTADINA" (RURAL MEMORY)
2001 VILLA CALDOGNO (VI) "MEMORIA CONTADINA" (RURAL MEMORY)